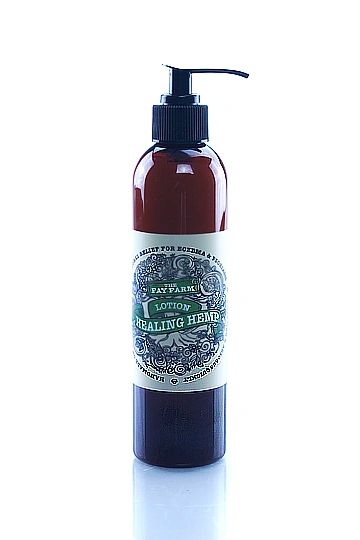 THIS PRODUCTS DOES NOT CONTAIN HEMP OIL EXTRACT. YOU MAY PURCHASE OUR HOE (HEMP OIL EXTRACT) FORMULA FROM OUR FRIENDS AT CANNATREEHOUSE.
We formulated our Healing Hemp ™  Lotion for my daughter's eczema and psoriasis. The natural ingredients  relieve itching, reduce redness, moisturize and promote new skin cell growth. Free of any harmful chemicals, such as parabens, phthalates, mineral oil and alcohol, our Healing Hemp Lotion feels gentle on the skin and absorbs quickly.



Apply liberally on affected areas as needed for relief.
Made with organic ingredients: Purified water, hemp oil, grape seed oil, apricot kernel oil, emulsifying wax, stearic acid, argan oil, burdock, calendula, chamomile, chickweed, comfrey, licorice, nettle, plantain, st. john's wort, essential oils, gluconolactone and sodium benzoate (certified organic preservative).